Bracelet size
Most women feel comfortable wearing a bracelet that is 7 to 7.5 inches in size, which is the standard size. The bracelet should hang comfortably between your hand and wrist bone
Wrist sizing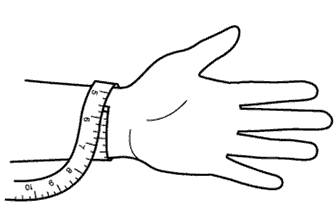 When measuring for bracelets, measure tightly where your wrist is broadest. Measure your wrist with a flexible, soft tape measure just below the wrist bone (below the wrist bone is the area between your hand and the wrist bone). This is your actual wrist size, not your bracelet size. If you want it to be a little loose, or tight, just enter the size you desire when choosing your bracelet.
Choosing a bracelet size using another bracelet
Find a bracelet that fits you correctly. Set it down flat. Measure the length in inches from the start to end of the bracelet. Make a note of the measurement. Order your bracelet in a size as close as possible to this measurement, or we can make a custom bracelet to your desired size.
WOMEN'S LENGTH
X Small: 6″ – 6-1/2″
Small: 7″ – 7-/12″
Medium:  8″
Large: 9″